Smiddy House
Roy Bridge Road
Tel: 01397 712335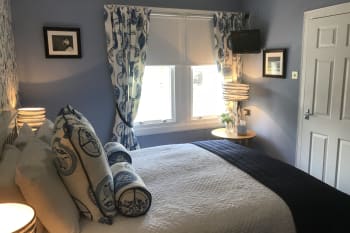 Situated in the village of Spean Bridge, Smiddy House and Russell's restaurant is only 11 miles from Fort William, the outdoor capital of the Highlands. A 4 star Gold graded accommodation by Visit Scotland and the AA. Recommended in the Michelin Guide, The Good Hotel Guide and "Scotland the Best": our 4 en-suite rooms are characterful of a traditional Highland dwelling, each individually designed and named after Scottish places which are also named whiskies. Our suite "The Bryson" suite offer spacious and luxury accommodation. Our restaurant Russell's, has been awarded 2 AA rosettes for 12 consecutive years. We source the best of Scottish and local produce including scallops from the Island of Mull, Arisiag prawns and salmon from Wester Ross, our dishes concentrate on flavours and textures without being complicated. We look forward to welcoming you at the Smiddy House and the Highlands of Scotland!
Availability
There are no rooms available at Smiddy House
for these dates.
Please try other dates or select a
different property
.
rooms
Facilities
Internet Access
Lounge
Packed Lunch By Arrangement
Restaurant
Restricted Alcohol Drinks Licence
Policies
Check In: Between 15:00 and 19:00
Check Out: Between 8:00 and 10:00
Wi-fi: Wireless internet is available and is free of charge.
Smoking: There is no smoking permitted anywhere within the property.
Parking: Parking for all guests is available on site and is free of charge.


Children: All guests must be 18 or over, no children are allowed.
Pets: Pets are not allowed.
Groups: Groups are accepted up to a maximum of 8 people. No stag and hen groups.
Average
5.0
out of 5
61 reviews
100% recommend
Reviews
15th June 2021:

Robert and Glen are excellent hosts and are supported by a very attentive staff. Smiddy House offers immaculate accomodation and excellent food. Seasonal, locally-sourced ingredients are always on offer. Glen and his team in the kitchen ensure that these are exquisitely prepared and presented. It is always a joy to return.
Would Recommend: Yes
9th June 2021:

Yet another wonderful stay with Robert and Glenn, great hospitality, scrumptious food and a thoroughly enjoyable time.
Tips:
The boat trip from Fort Augusta is well worth doing. We wouldn't eat anywhere else to be honest!
Would Recommend: Yes
8th June 2021:

Spent a wonderful three nights here at Smiddy House. The location is ideal for exploring the Highlands and the food at the hotel is incredible. The attention to detail throughout the entire place is superb, and I don't think I've ever stayed in a place where the hosts and staff were so welcoming and friendly. Can't wait to visit again.
Tips:
Make sure you eat in the restaurant (Russell's). We were so impressed we had dinner there twice. It's very popular so make sure you book well in advance.
Would Recommend: Yes
3rd June 2021:

Warm welcome, excellent dinner in Russell's restaurant
Would Recommend: Yes
1st June 2021:

A lovely place to stay The accommodation is spotless and the food was absolutely superb It's obvious the owners / staff really care in what they do Would definitely stay here again
Would Recommend: Yes
30th May 2021:

We were made to feel so welcome - greeted with coffee and cakes, started relaxing right away after our journey
Tips:
If you don't eat at Russell's Restaurant you'll be missing out on a lovely evening
Would Recommend: Yes
28th May 2021:

So enjoyed our stay. Friendly hosts, lovely breakfast and dinner. Many thanks.
Would Recommend: Yes
23rd May 2021:

Excellent hospitality, nothing is too much trouble
Would Recommend: Yes
22nd May 2021:

Lots of lovely design touches to the accommodation. Breakfast superb. Dinner in Russell's restaurant absolutely first class. Really friendly service, Robert thoroughly entertaining and nothing seemed too much trouble.
Tips:
Recommend eating in Russell's restaurant, if you like good food you won't be disappointed.
Would Recommend: Yes
2nd May 2021:

We thoroughly enjoyed our night at Smiddy House. We received a very warm welcome from Robert who showed us to our suite which is stunning, beautifully decorated and so comfortable. Our dinner was equally excellent,our compliments to Glen, the chef. Highly recommended.
Tips:
Stunning local area.
Would Recommend: Yes
22nd October 2020:

Would Recommend: Yes
9th October 2020:

Have raved about our stay! Thank you Robert and Glen for a memorable couple of nights. Amazing service from start to finish and outstanding food.
Would Recommend: Yes
8th October 2020:

Loved it here, staff were very friendly and the food was amazing. It was a great place to break up our journey onwards to the Isle of Skye. We would definitely come back if we are in the area. We would recommend to anyone!
Would Recommend: Yes
21st September 2020:

Would Recommend: Yes
21st September 2020:

Exceptional quality of service, facilities and food. We will definitely return.
Would Recommend: Yes
20th September 2020:

Exceptional! Wonderful food, excellent hosts. Superb restaurant. Self contained accommodation of a very high standard. Highly recommend!
Would Recommend: Yes
19th September 2020:

Very friendly staff. Rooms and facilities that exceed expectations and put customer first. Outstanding restaurant. Difficult to think that anything could be better.
Tips:
Lovely walk recommended by Robert up to Commando Memorial. Beautiful nearby drives to Glen Coe and road to Mallaig.
Would Recommend: Yes
17th September 2020:

Absolutely superb service. Lovely house. Exceptional COVID precautions taken. Dinner and breakfast some of the best food I've had.
Would Recommend: Yes
14th September 2020:

The most welcoming, clean and comfortable place we stayed, and the meals were simply fabulous. Thank you for going out of your way to make our stay so enjoyable!
Would Recommend: Yes
14th September 2020:

The Smiddy House is in a lovely location in Spean Bridge. After a long drive from Newcastle we were made to feel very welcome from the minute we checked in. Our room was immaculate and beautifully decorated with real attention to detail. My husband said he'd be happy to have an operation in it it was so clean! The food was absolutely delicious, fresh scallops to start, Venison for my husband and Hake for me as mains. A good selection of wine and beer too. Breakfast was excellent, plentiful with a good choice. Definitely the best food we had on our trip and we ate some exceptional food whilst away, we will definitely return. Every Covid precaution necessary had been taken and we felt very safe. I can't recommend it highly enough.
Tips:
Eat in the restaurant at the Smiddy House, the food is excellent and the staff are very friendly.
Would Recommend: Yes
8th September 2020:

Sensational restaurant with the cleanest rooms ever. The food is to die for, Glen is a great chef and Robert a great host. Couldn't wish for better. We will be back
Would Recommend: Yes
6th September 2020:

Would Recommend: Yes
3rd September 2020:

An absolutely lovely stopover stay at Smiddy House. Robert was most welcoming and the evening meal was delicious! The smoked salmon and scrambled egg for breakfast was heavenly, too. I think Smiddy House is possibly the cleanest hotel I have ever stayed in in my life. Very highly recommended!
Would Recommend: Yes
30th August 2020:

Fantastic hospitality, amazing food, as always. Glen and Robert are the most pleasant happy people, always happy to help and nothing is to much trouble. Very helpful staff, beautiful bedrooms, , wonderful seating areas and restaurant.
Tips:
We always stay at the Smiddy such quality. Fort William, Fort Augustus goid places you see. We had a day trip to the Isle of Sky, beautiful place. We visited the water front village of Plockton, very quaint.
Would Recommend: Yes
27th August 2020:

Food was amazing and accomodation so comfortable and everything was spotlessly clean. Can't wait to return.
Would Recommend: Yes
27th August 2020:

This was the best guest house that me and my boyfriend have stayed in! It was so clean and cosy and the breakfast was amazing :) i would recommend this place if youre looking for a cosy B&B! Also the service was great we had a warm welcome and had a good sense of humor
Would Recommend: Yes
25th August 2020:

Very clean and careful with the Covid requirements
Tips:
Try it
Would Recommend: Yes
24th August 2020:

Only one night stay but everything was excellent and the food in particular was first class. Would recommend to others and hope to stay at Smiddy Houes again.
Tips:
Climb the Creag Meagaidh Munros (circuit of 3 Munros) - long day out and go well prepared for mountain weather but great walk and lovely views.
Would Recommend: Yes
24th August 2020:

The accommodation is clean and very well presented and is supported by superb food. The breakfasts menu is wide enough to allow variety while maintaining a high quality. The evening meals are outstanding with wonderful combinations of flavour in every meal.
Tips:
There is a lovely circular walk up to the Commando memorial along the main road side and back through the woodlands to the village (around 3 miles) that is a favoutire of ours.
Would Recommend: Yes
18th August 2020:

Lovely Guest House with beautiful comfortable rooms. Food is amazing so would recommend to book your evening meal here too. Hope to return soon.
Tips:
Jacobite Express from Fort William to Mallaig with the Western Isles Wildlife Cruise at Mallaig which you have time to do before the train departs.
Would Recommend: Yes
17th August 2020:

Smiddy's was spotless and staff were very hospitable. Hand sanistiser bottles were strategically positioned to ensure everyone heeded the government advice. Room decor was very nice. The breakfast was exceptional and we were also advised where to go for a lunch to be made up. Robert even offered to iron my trousers, as we were not able to have an iron and ironing board in the room due to COVID_19.
Tips:
Commando Memorial only a mile walk away from B&B.
Would Recommend: Yes
14th August 2020:

Friendly, helpful, and experienced. A great experience, enhanced by the warmth and courtesy of the staff.
Tips:
Do the High Bridge walk from Smiddy House.
Would Recommend: Yes
10th August 2020:

Our second stay,& excellent again. Very friendly and welcoming, and superb food & wine.
Tips:
Superb for walking.
Would Recommend: Yes
3rd August 2020:

Usual fabulous comfortable stay in beautiful environment with an amazing dinner then breakfast to round things off Professional social distancing in place
Tips:
Definitely recommend eating here Walk to the commando monument
Would Recommend: Yes
2nd August 2020:

This was a delightful stop overnight. The dinner was excellent and a friendly ambience amongst guests. Robert and Glen were excellent hosts.
Tips:
Visit the commando memorial via the High Brifge. A great and interesting walk!
Would Recommend: Yes
25th July 2020:

Great to return after 16 years to Smiddy House and it was just as good as we remember it. Thanks to Robert for a warm welcome and terrific service.
Tips:
No need to eat anywhere else - the food is terrific!
Would Recommend: Yes
19th July 2020:

The Smiddy House is a wonderful place to stay at the best of times in these current times it was a prefect joy. The trouble Robert, Glen and their whole team go to to make you feel safe and comfortable is excellent. The rooms are of a really high quality as is very thing in them, from towels to teapots. The food both dinner and breakfast truly 5 star.
Tips:
Why eat anywhere else but at Russell's. There is plenty to do take a local bus up the Glen to Inverness if you don't fancy driving, or the train to Mallaig. On a good day try the gondola ride up Aonach Mor. Neptune staircase is worth a visit, as is the moving Commando memorial.
Would Recommend: Yes
16th March 2020:

We completely enjoyed our stay and meals at Smiddy House. Thank you for everything.
Tips:
Fort William has an excellent Travelers Information shop in town. We also found the ruins of Inverlochy Castle to be quite lovely. It's free, right next to the river and has it's own place in history.
Would Recommend: Yes
11th March 2020:

Just a lovely warm welcome with nothing too much bother. Thank you. Dinner was excellent - my wife reckons it's as good as our local Michelin place without having to translate the menu! Great location for the hills. Stayed a few times over the years and we'll be back again!
Would Recommend: Yes
16th February 2020:

Would Recommend: Yes
20th January 2020:

Old world charm. Lovely place to stay. The hosts made us feel very welcome. Restaurant on-site served exceptional food. The breakfast was also great with plenty to select from.
Tips:
Only stayed the one night so didn't get out to do much sightseeing.
Would Recommend: Yes
5th January 2020:

Robert was an excellent host who went above and beyond to make us feel welcome.
Tips:
Russell's Restaurant is excellent.
Would Recommend: Yes
9th December 2019:

We have stayed here before and eaten in the Russell's restaurant many times when visiting friends in the area. Always our first choice for food and accommodation and it never disappoints. Staff and owners do an excellent job. A first class place to stay and eat, being both welcoming and fun.
Tips:
Eat with your hosts, Russell's offers excellent food in a friendly environment. About a mile from the Commando Memorial, a few miles from Neptune's Staircase on the Caledonian Canal, and of course Ben Nevis and all its activities is just down the road at Fort William while Nessie awaits you in Loch Ness. Spean Bridge is a well known tourist stop on the West Coast route.
Would Recommend: Yes
9th October 2019:

We had a lovely stay. Very good service and nice staff. Great food.
Tips:
Easy to travel with train and bus close nearby. Nice walks in the area. Great food at Russell`s restaurant
Would Recommend: Yes
1st October 2019:

We always love staying at Smiddy House and dining at Russell's Restaurant. The accommodation is beautiful and very comfortable and the food is the best ever.
Tips:
There are lots of places to walk in the area or you can take a train trip to see some wonderful scenery in comfort.
Would Recommend: Yes
15th September 2019:

We have been upgraded in a very lovely room, this was a good surprise. All was perfect we recommend this charming place. We had one of our best stay in scottland in smiddy house and the restaurant was very good
Would Recommend: Yes
9th September 2019:

Friendly, fun and FABULOUS. Great couple and food to Michelin Star standard. Would not hesitate to recommend. Aleady mentioned to friends.
Would Recommend: Yes
22nd August 2019:

very good service and nice and friendly staff. The dinner was awesome.
Would Recommend: Yes
16th August 2019:

Would Recommend: Yes
16th August 2019:

This was my second visit the first being 2006. It was even better this time and it was very good before!
Tips:
Make sure you book yourself into the restaurant. You won't need to go anywhere else. And the porridge is the best I have ever eaten!
Would Recommend: Yes
12th August 2019:

This was a lovely place to stay! The room was quaint, very clean, well decorated, and had a very comfortable bed! The restaurant was a must experience...as the food was phenomenal, and the staff was professional, super friendly, and attentive. It was a very welcoming enviroment, and it was a pleasure to stay here.
Would Recommend: Yes
11th August 2019:

Smiddy House did not disappoint and met all our expectations . In fact we specifically organised to return here as we had had such a fabulous experience here last year. The hosts are absolutely wonderful and ensure that everything is of the highest standard. We dined both nights in the restaurant and again the attention to detail and standard of the meals cannot be over stated.
Would Recommend: Yes
9th August 2019:

IT was a very nice House with very friendly owners and staff. The breakfast und the dinner are the Best one of our Trip in scotland.
Would Recommend: Yes
6th August 2019:

Would Recommend: Yes
4th August 2019:

Friendly welcome and attentive staff.
Would Recommend: Yes
2nd August 2019:

Would Recommend: Yes
31st July 2019:

Robert and Glen compliment each to an exceptional level. Robert is a fabulous front of house host and Glen is an outstanding chef. Nothing was too much trouble. We booked 2 nights at The Smiddy and our friends could only book 1 night as they had booked another guest house for the following night. Robert told them to leave their luggage in the room and he would personally take it over to the other guest house for them. Our friends were really very appreciative of his kind offer as this was way above normal service.
Tips:
Russell's Restaurant which is in The Smiddy serves excellent food and is the best place to eat in Spean Bridge.
Would Recommend: Yes
13th July 2019:

A warm welcome and delicious food, we had a drink in the conservatory before dinner and at breakfast was very good also. The room we were allocated was called a"cosy double" and although it was small it was very comfortable.
Tips:
The 2 hour walk along the river and old railway line to the Commandos Memorial was beautiful and the time taken includes half an hour at the memorial.
Would Recommend: Yes
12th July 2019:

Hotel was lovely and the staff were really welcoming
Would Recommend: Yes
4th July 2019:

Excellent reception and hospitality by everyone. They advised about things to do around and suggested a better way back home on the day of check out. Felt well looked after!
Tips:
walk on the edges of Spean river ( suggested by the Smiddy house owners) was fantastic. it was about an hour and half in a beautiful location away from the usual routine life and easily doable for everyone.
Would Recommend: Yes
26th June 2019:

Robert and Glen were the perfect hosts, extremely welcoming and friendly. Our room was cosy, very comfortable bed, nicely decorated and immaculately clean. The bathroom had a great walk in shower with all the amenities you could want. We had dinner in the restaurant, the food was amazing, Michelin star quality. Breakfast was sumptuous too. Cannot recommend it enough, this is a real gem. We will definitely stay there again when we are in the area.
Would Recommend: Yes
.