Fàilte Mhòr
42 Camesky Road Caol
Tel: .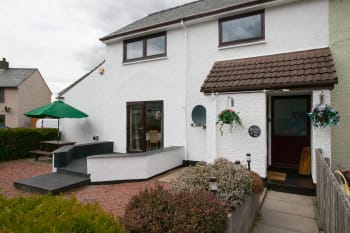 Failte Mhor is a dog friendly, 3 bedroomed, end terrace, self catering property. Children aged over 7yrs old are welcomed. Guests can view Ben Nevis from the twin or single bedroom windows (weather permitting). Super fast Wifi is available in all areas of the house. Guests are welcome to use the garden to sit in / eat out in on a nice day. Parking is available on the street outside the property free of charge. A max of 2 well behaved dogs are welcomed.
Availability
There are no rooms available at Fàilte Mhòr
for these dates.
Please try other dates or select a
different property
.
rooms
Max:
En suite
Whole house booking. Includes 1 x double en suite room, 1 x twin room and 1 x... more >
Whole house booking. Includes 1 x double en suite room, 1 x twin room and 1 x single room. Twin and single share a shower room.Room Facilities:
ALL bedrooms Non Smoking
Broadband/High Speed Internet Access
Central Heating
Coffee Maker
Complimentary Toiletries
Crockery & Utensils Supplied
Duvet
Egyptian Cotton Linen
Flat Screen TV
Fridge
Full-Length Mirror
Hairdryer
Ironing Facilities
Kettle
Linen & Towels Supplied
Patio
Remote Control TV
Shared Bathroom
Tea/Coffee
WI-FI Internet Access
Windows open
Daily Housekeeping
En Suite
Heated Towel Rails
Heating Throughout Property
Shower EnSuite
TV In Room
Wifi Free
Facilities
Kitchen including hob & microwave (no oven)
Laundry wash & dry (charge)
Children 7+ yrs old welcome
Dog friendly (max 2 dogs)
Dishwasher
Garden For Residents' Use
Internet Access
Lounge
Drying Facilities
Luggage Storage
Policies
Check In: Between 17:00 and 21:00
Check Out: Between 6:00 and 10:00
Wi-fi: Wireless internet is available and is free of charge.
Smoking: There is no smoking permitted anywhere within the property.
Parking: Parking for all guests is available on site and is free of charge.


Children: Children aged 7 or over are welcome.
Pets: Pets are not allowed.
Groups: Groups are accepted up to a maximum of 5 people. No stag and hen groups.
Average
4.8
out of 5
21 reviews
100% recommend
Reviews
25th September 2021:

Lovely place to stay and very welcoming! Would 100% recommend and stay again.
Tips:
Highstreet in town is great for food and drink. Sammy's fish bar is a must (nearer accommodation)
Would Recommend: Yes
23rd September 2021:

Very pleasant, with well equipped kitchen although no oven. Plenty of shops,two pubs nearby.
Would Recommend: Yes
21st September 2021:

Excellent accommodation. Very comfortable and an excellent host as well.
Would Recommend: Yes
17th September 2021:

Really lovely house with amazing host who couldn't have done more to accommodate us. Location was good but quite far out of town however easy to get taxis. Only areas for improvement in the facilities would be there's no oven or freezer and no extractor fan plus the tv was tricky to use. This would've been more of an issue if we'd stayed longer but was fine for our 3 nights. The house was cleaned daily due to Covid and we really appreciated the host going the extra mile with that. Plus it's dog friendly with a dog bed and treats provided. Overall we had a great stay and would highly recommend.
Tips:
The house is a short walk to Neptune's staircase and if you time it right you can walk to the canal and watch the Jacobite go past. We had a lovely meal at the crannog and also the Ben Nevis Bar. The Steall Waterfalls were also a great day out.
Would Recommend: Yes
6th September 2021:

We stayed here for a week and this is a great place for a base if you are travelling around scotland, climbing ben Nevis or visiting Fort William. The place itself is immaculate, has 3 large bedrooms and had everything we required during our 7 daystay. The host is extremly friendly, they are covid aware and at the end of a phone should you need anything or assistance.
Tips:
Within a 10 minute drive of Neptunes staircase, Ben Nevis and Fort William.
Would Recommend: Yes
26th August 2021:

Very well appointed, comfortable beds, cleaned every day. Owner close by, very friendly and helpful. Dog friendly. 3 for facilities as no oven.
Tips:
Super walks, great meal at "The Moorings ". Jacobite express a must. Steall waterfall beautiful
Would Recommend: Yes
6th August 2021:

We were welcomed by the owner which was lovely and kind, she helped us a lot. The house was big and felt like home away from home. Every thing was clean and well organized. For summery we had the best time there and felt sorry we couldn't stay for longer I highly recommend it!
Would Recommend: Yes
11th July 2021:

Louise is a wonderful, hard working host and very attentive to needs. Quick to respond to requests. Property very clean.
Would Recommend: Yes
5th July 2021:

Louise was easy to contact and very helpful. Ideal location, great size, very comfortable and clean.
Would Recommend: Yes
1st June 2021:

Very clean and comfortable. Close to many activities. We stayed as family of 5, and the space was perfect for us. Louise was fast to respond when we needed. I would definitely stay again!
Would Recommend: Yes
28th September 2020:

Very clean and organised, especially while amidst the covid pandemic.
Would Recommend: Yes
17th September 2020:

Thank you for a lovely stay. Exceptionally clean facilities and house is in the perfect location for exploring. Host brilliant, couldn't do more for us. Great 3 days staying here and would highly recommend. Thank you!!
Tips:
Great location for climbing Ben Nevis and for exploring Glencoe.
Would Recommend: Yes
16th September 2020:

Wonderful place to stay. Very friendly and helpful host. I loved my stay there, have nothing but praise.
Would Recommend: Yes
8th September 2020:

Had a lovely warm welcome from Louise and there is everything you need for your stay . We found the room to be peaceful & quiet with good quality bedding & towels .
Tips:
We were hillwalking and didn't get to accommodation till after 8.00pm and we had our own food to microwave in Failte Mhor so cant comment on restaurants etc certainly a great spot to stay if your a hillwalker
Would Recommend: Yes
5th September 2020:

Lovely home in a great area. We were made to feel welcome and had no problems. Would stay again.
Tips:
Local beach which was lovely. Neptunes staircase. Good cafes and pub grub places. Peacefull area.
Would Recommend: Yes
25th August 2020:

Had an excellent stay, the bedroom and bathroom were sparkly clean. We did not use the other facilities as stayed outside most of the time but everything looked modern and well looked after.
Tips:
Definitely go up Ben Nevis if you have a couple of days, you can see it from the bedroom window!
Would Recommend: Yes
17th August 2020:

A really lovely place with good access go bus services into Fort William. Felt very homely and comfortable.
Would Recommend: Yes
15th August 2020:

Very good location-quiet and close to everything. Super friendly,welcoming host who showed around. The place has everything what you need and very clean.
Would Recommend: Yes
9th August 2020:

Would Recommend: Yes
21st December 2019:

Really comfortable warm house, very clean and obviously well cared for. Great kitchen with everything you need to prepare meals.
Tips:
Supermarket 2 minutes walk away. Nice walks at glen nevis
Would Recommend: Yes
14th October 2019:

We had a lovely with Louise. Her accommodation was amazingly nice as was she. Very informative and full of local information. Thanks for a wonderful stay.
Tips:
You must see Neptune's Staircase.
Would Recommend: Yes
.