Whinburn Guest House
Lundavra Road
Tel: 07525 088359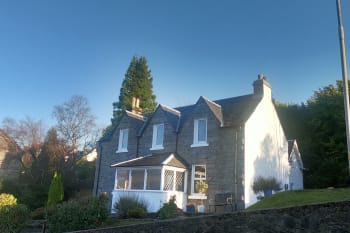 Whinburn is a traditional Victorian villa which has been lovingly restored to create a warm and welcoming guest house with 3 luxurious en-suite rooms. Situated within a 5 minute walk from Fort William High Street for eating out and shopping, yet commanding beautiful views over Loch Linnhe, Whinburn is the perfect base to explore the 'outdoor capital' of the UK. The location is ideal for day trips to Inverness, Mallaig, Oban and even Skye. Our rooms all have complementary wi-fi, smart TV's, tea & coffee making facilities, and we also provide free electric car charging for guests. We provide a delicious substantial breakfast to set you up for your busy day in the Highlands and can also provide a packed lunch on request. We can cater for special dietary requirements with advance notice.
Availability
There are no rooms available at Whinburn Guest House
for these dates.
Please try other dates or select a
different property
.
rooms
Max:
En suite
Superior Double/Twin with Super King Size bed and Loch View more >
Superior Double/Twin with Super King Size bed and Loch ViewRoom Facilities:
ALL Rooms Non-Smoking
Bottled Water (Complimentary)
Central Heating
Complimentary Toiletries
Electric Shaver Point
En Suite
Flat Screen TV
Full-Length Mirror
Hair Dryer In Room
Heated Towel Rails
Heating Throughout Property
Kettle
Linen & Towels Supplied
Mist-free Mirror
Sea/Loch View
Shower EnSuite
Tea/Coffee
Twin/Double Changeable
Wifi Free
Facilities
Free electric car charging
Early Breakfast By Arrangement
Garden For Residents' Use
Internet Access
Log Fire
Packed Lunch By Arrangement
Policies
Check In: Between 16:00 and 20:00
Check Out: Between 6:00 and 10:00
Wi-fi: Wireless internet is available and is free of charge.
Smoking: There is no smoking permitted anywhere within the property.
Parking: Parking for all guests is available on site and is free of charge.


Children: Children aged 12 or over are welcome.
Pets: Pets are not allowed.
Groups: Groups are accepted up to a maximum of 6 people. No stag and hen groups.
Average
5.0
out of 5
20 reviews
100% recommend
Reviews
26th October 2021:

We have stayed in many places while driving the NC500 and this Guest House was surely one of the best. Clean, bright, affordable and with a lovely friendly hostess. I couldn't recommend more.
Tips:
Jacobite Steam Train Ben Nevis Mountain Range Cable car 🚠 Glencoe Visitor Centre So many nice cafe's and restaurants - all within a five minute walk
Would Recommend: Yes
23rd October 2021:

We received a warm welcome on arrival. Everything was explained to us regarding the excellent room and dining facilities. Donna and Mustaf were excellent hosts.
Tips:
The guest house is ideally situated for town centre shops, restaurants and bars. Rooms had view of the Loch and all outdoor activities are within easy reach. They very kindly let me store my bicycle in a locked shed
Would Recommend: Yes
12th October 2021:

Amazing beds and amazing breakfasts, probably one of the best we've ever had. Donna is a great hostess as well.
Tips:
The best dinner we had was at The Ben Nevis Inn, the food was delicious
Would Recommend: Yes
29th September 2021:

Rooms are beautiful, modern and have all the facilities that would be required. Great location, 5 minutes from the High Street and lovely restaurants. The host (Donna) was lovely and very helpful with recommendations for restaurants.
Would Recommend: Yes
26th September 2021:

Warm welcome from Donna Nicely decorated and very clean room with stunning views Freshly cooked eggs from chickens roaming in garden assured a tasty breakfast. Would love to return and will recommend to our friends. Thanks Donna.
Tips:
Had a very enjoyable meal in Lime Tree Restaurant Also The Stables Steakhouse. Great day on train to Mallaig.
Would Recommend: Yes
6th September 2021:

A very warm welcome from Donna at this comfortable and ideally located B & B overlooking Loch Linnhe as you arrive in Fort William. Newly decorated to a high standard and a delicious breakfast. Would highly recommend.
Would Recommend: Yes
23rd August 2021:

We were travelling up from Newcastle on Thursday night and new that we would arrive a little late. We had called ahead and got there at 9pm which appeared to be no trouble at all. The room was very clean and comfortable with a great view of loch linnhe from the window. We were leaving at 6:15am to meet a couple of others before heading up Ben Nevis. Breakfast was served between 7:30 - 8:30 so we would miss breakfast. The landlady offered us a packed breakfast but my son and partner made us Bacon and Eggs before we set off. When we got back on from the walk, the room had been serviced and was very clean and comfortable. We ate out in Fort William on Friday night and the Pizza was fine. On Saturday morning we had a mix of continental breakfast and Poached Eggs on Toast, with other options available (scrambled, Fried Boiled, Florentine etc). The Eggs were probably from the Hens walking around the grounds. Overall we had a lovely time and would recommend the place and its location to the centre of town.
Tips:
Im over 60 and do a lot of walking but not up such steep hills. The footpath had lots of loose stones and My Son made the comment at the end that he had broken Dad. He was probably right. It was a little too much for me so before you try it then think very carefully and get some decent practice in.
Would Recommend: Yes
20th August 2021:

Beautifully decorated and appointed room, the bathroom in particular was shiny and spotless. Very comfortable huge bed, breakfast was great and we would definitely make a return trip.
Tips:
Get up Ben Nevis!
Would Recommend: Yes
13th August 2021:

We had a fantastic stay. The room was amazing, the breakfast was fantastic. Donna was a Sal outlay amazing. It was the best place we have stayed in Scotland.
Tips:
We really enjoyed the tavern for dinner. We had plenty of choices to go and cost for days out. Donna was very knowledgeable on the area.
Would Recommend: Yes
13th August 2021:

Very friendly and helpful host. Very relaxed stay with everything I needed
Would Recommend: Yes
19th July 2021:

All mod cons Lovely room with large bed Great location for all activities Thank you Donna for a lovely stay
Tips:
Would recommend the Stables restaurant
Would Recommend: Yes
10th July 2021:

Whitburn Guesthouse is superb in every way. The location is stunning, the rooms are of a very high standard, breakfast delicious and Donna goes above and beyond as a host. Our stay was great and we really appreciated the little touches in the room. It is without doubt one of the best guest houses we have ever stayed in.
Tips:
Location is ideal as very close to all Fort William bars and restaurants, particular recommend Crannog seafood restaurant(lobster delicious and reasonable) A trip on The Jacobite is a must do. Easy to travel on to the islands from Fort William
Would Recommend: Yes
3rd July 2021:

Would Recommend: Yes
23rd June 2021:

I honestly can't recommended Whinburn any higher - if there was a 10 marking available, I would choose that. Our stay was wonderful. We were so well looked after by Donna and made to feel welcome. It was like staying with family but even nicer. The bedrooms were beautifully furnished and extremely clean. The breakfasts were delicious and the service impeccable. Donna and Mustapha were friendly and welcoming and Donna gave us lots of information and advice about the local area and nearby eateries. I wouldn't stay anywhere else if I visited again. Very grateful to Donna for everything.
Tips:
I highly recommend spice tandoori restaurant esp their king prawn dishes.
Would Recommend: Yes
22nd June 2021:

Had a good couple of days in a lovely location with a great room. Donna was really friendly and helpful. We had to leave early one morning and she even sorted us out an early breakfast.
Tips:
Only takes a couple of minutes to walk onto the main street in Fort William. The pizza's at the highland cinema were really good!
Would Recommend: Yes
20th June 2021:

I have already recommended Whinburn Guest House to all my friends. The house is charming, the beds comfy, the breakfast was one of the best I have had. Everything I love was at the breakfast. Donna is so lovely, it felt like I had known her for a few years. So welcoming. And I love the chickens. THe brown ones were quite happy to be stroked.
Tips:
We enjoyed the local fayre.....some of us more than others!! Thanks to Tavern for the drinks, Ben Nevin and The Stables and Ben Nevis Bar for the lovely food. Everyone was so friendly. What a good idea the Highland Hospice Vintage Charity shop is. Good job I don't live there. I would be in everyday. THe ladies were helpful and happy. We went on the gondolas at Ben Nevis Range, a good day out and some fantastic views.
Would Recommend: Yes
10th June 2021:

Had a great stay, lovely house in a fantastic location. very welcoming and would definitely recommend staying at the whinburn
Tips:
The guest house is located close to the town with a good variety of bars and restaurants.
Would Recommend: Yes
5th June 2021:

This is an excellent Guest House. One of the very best we have stayed in. Very close to the High Street.
Would Recommend: Yes
3rd June 2021:

Excellent in all area. Would return. Thank you Donna
Would Recommend: Yes
25th May 2021:

What a fantastic weekend away !!! Can highly recommend the Whinburn!!! Excellent five star accommodation, location and breakfast. Big thanks to Donna for making our stay perfect!! Even picking up on the little things like stocking us up with our fav tea bags and cans in the fridge !!! We will definitely be coming back for another stay 🙌🙌
Tips:
Climbing Centre, Cinema / cafe , Breakfast at Whinburn
Would Recommend: Yes
.